Dev Update
A lot of work has been done the last few months! I've been steadily chugging along with work on the game and I finally feel like I'm nearing the first major milestone of the project! Since the last update most of the major game systems have been put in place and I've started to work more seriously on content. Below is a screen capture of some fireballs exploding on a slime and skeleton.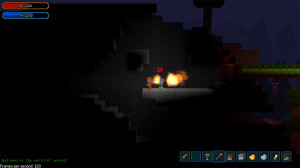 Right now I am focusing on getting a polished Alpha build completed sometime in the next few weeks. I really want to make sure I nail the core combat experience. Once the alpha build is done I am going to work on publishing a handful of articles about the different game systems.
Since the last update a number of different things have changed including adding a new particle system, revamped world generation, added new mob types, finished the animation controller, added a new secondary attack for swords, added a effect system, added the alchemy system, added a new system to handle plant growth, and numerous bug fixes and smaller enhancements. You can see some of the fruits of that labor below.
As i've been working, i've been slowly building up the backlog of project tasks. I'm getting pretty close to the point where I'll be able to predict a release date. It's exciting to finally see things coming together!